Three events happened over the previous weekend involving WSX club members. Firstly, on Saturday at Godshill a few of us took part in a Surveying session led by John Warren from WIM. This was an incredibly enjoyable day, learning the basic techniques of surveying in order to produce an orienteering map. We tend to take our maps for granted, but there is an amazing amount of work that goes into producing them. Although WSX are unlikely to have any major new areas to map, our current event areas are regularly in need of updating, and therefore re-surveying. So the purpose of this session was to enable a wider range of club members to do this, and hence share the load. The session was also attended by members of Wimborne and Sarum.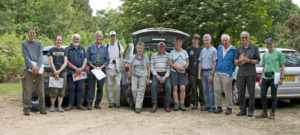 On Sunday, 6 of us represented the club at the NWO Relay event at Lawn Park, Swindon. This was the first of the SWOA Summer Relay Series, and WSX are the holders, so the pressure was on! WSX Raiders – Roger and James Crickmore, plus Jason Falconer – came an excellent 2nd after one of the BOK teams. WSX Wonderwomen (?!) – myself, Tracy Crickmore and Tina Stratford – made a gallant effort and came 10th out of 15 teams.
Monday evening was WIM's turn to organise the WIM/WSX Club Night– and what a wild night it was! The rain was fairly lashing down at times and the wind was gusting all over the place. But in spite of all that, 36 mad, I mean dedicated, people turned up and had a run. To get the maximum points, you had to get all the controls in numerical order and 10 people chose to do this. Dale Paget came out on top,with James Crickmore not far behind. John Cook and Roger Crickmore came 5th and 6th respectively. Although I had started out with no great enthusiasm due to the appalling weather, I actually really enjoyed it. We're a strange bunch, orienteers, aren't we?!
Five of us are travelling over to Bristol this coming weekend to take part in the double-header urban event called the BOK Blast. So I'll be reporting on that on Monday.
And don't forget – our very own POOLE TOWN RACE is on the following weekend  – Sunday 18th – AND WE NEED YOU TO ENTER!! It helps us order the right number of maps, so PLEASE don't leave it too late. Thanks.