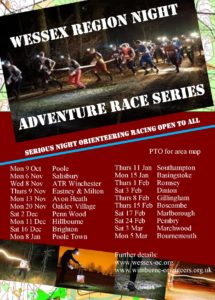 Its time to get out in the Dark again! Gavin Clegg has done a sterling job again of continuing our Wessex Night League season with 20 events including now the regionals and Southern National events. All our locals gain around 40 runners so if you havent yet been along do come, there will be head torches to borrow and help available and mostly based at a local pub.
If you can navigate by night then the daytime becomes much easier, well worth a try. So- dont be afraid of the dark, youth welcome with a companion, and grown ups welcome to the challenge of good sequencing and our own race when the rest of the country sits indoors watching telly.
First race is on a new map which is half Urban and half park trails in and around Canford Heath, based at the Haymoor pub a week tonight! Thanks to Dale for mapping and Alan B for setting up. A great combination of pitch black and street. Will you take the challenge?