As a precursor to the BOC at Balmoral in May, I thought I would treat Lyra to a belated 11th birthday present, by attending the Scottish Spring weekend around Stirling. I also thought it would help with fitness for me ahead of the JK, which given a month of snowed off events now seems justified.
The weekend was organised by the GB squad to raise money. Five events were planned over the weekend, and we signed up for the middle, sprint and classic.
Middle distance at Abbey Craig
Stirling is rife with historical accounts of the great battles against the English at Stirling Bridge and Bannockburn, and the middle distance event took place in the elevated woods of Abbey Craig, which is topped by the impressive and imposing Wallace Monument. These woods were where William Wallace's men reportedly camped out ahead of the Battle of Stirling Bridge, waiting for John de Warenne's men to make the fatal traverse across the narrow bridge and fall into Wallace's trap. The woods now are far less intimidating for us English, and the early signs of spring, the clumps of wild garlic leaves, and the bird song on a crisp and sunny Scottish morning were very welcoming. Crags and the quarries that were used to build the monument litter the lower slopes, and the middle course criss-crossed the hilly terrain, testing the navigation, compass work and allowing a rapid and enjoyable sprint with dry feet. Times were quick and this was a great warm-up to the weekend. I loved the brown course, but then it was a little under 3.5k.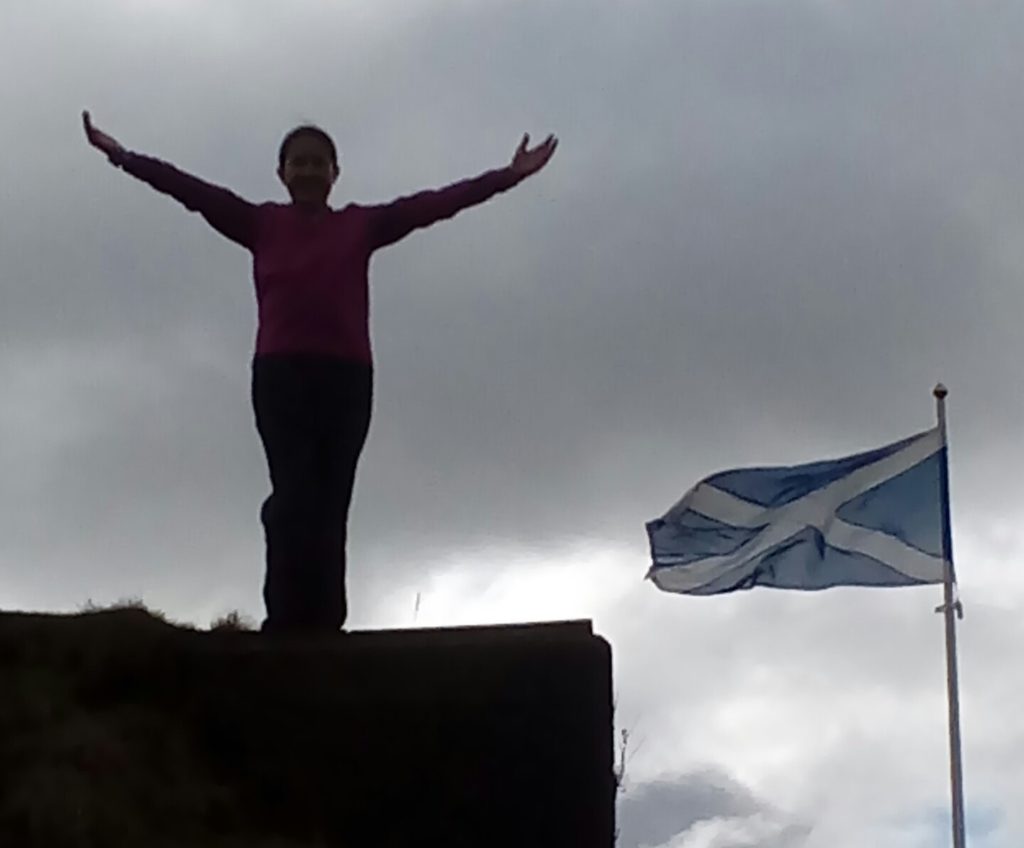 At the Wallace Monument, Stirling
Sprint race at Castlandhill, Rosyth
Billed as a typical Scottish housing estate, the similarity of one block of houses to another made for careful thumbing of the map, and with a control every 100 metres required constant concentration. The full GB squad seemed to be out in force and their excitement and drive was contagious. Lyra was keen to move on from the short 7-10 minute under 12 sprints, and took on the under 16 course with 28 controls. All was going well for her until she turned a blind corner towards control 25 and was accidentally knocked over by one of the GB squad [Kris Jones] on his way to control 1. He was blameless, but sadly Lyra fell to the ground suffering a bash to the cheek, and a cut leg. She was helped up by the very kind elite orienteer, and she finished her race to floods of tears, and he followed to ensure she was alright, thus forfeiting his run. I returned after my run to find her being very well looked after by elite orienteers and the course organiser, who were very supportive, apologetic (although not anyone's fault) and later we confirmed nothing was broken back at the hospital but her face was very swollen [although a few weeks later she still has pain, so perhaps a cracked cheekbone after all].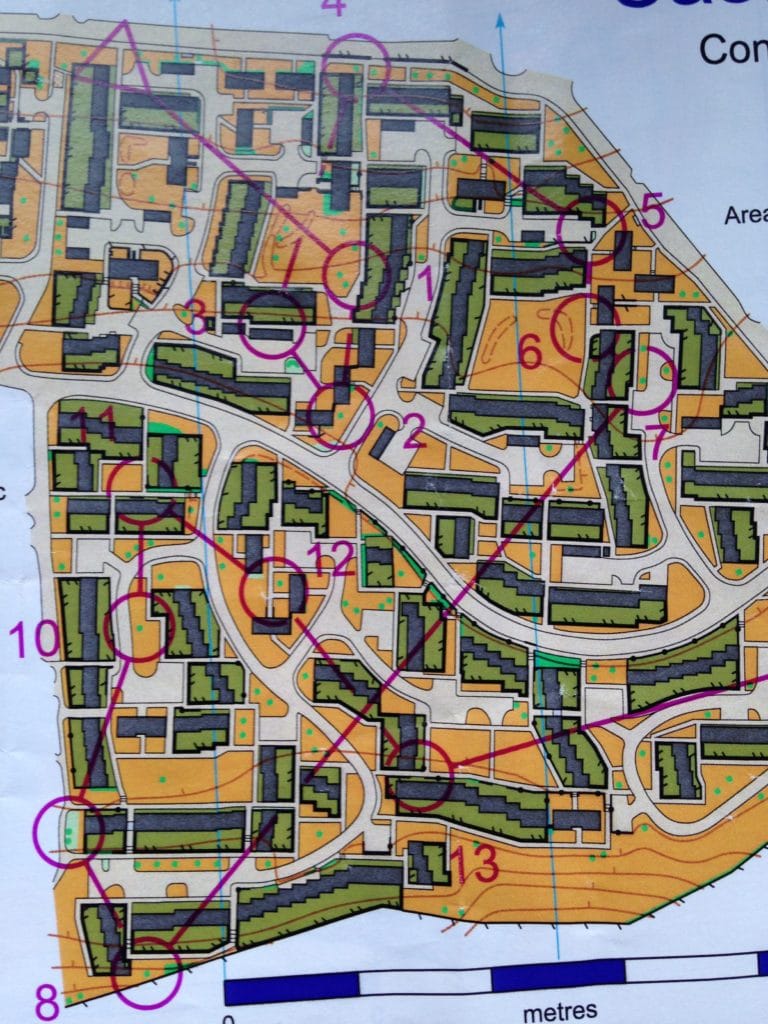 Complex housing estate at Rosyth (Scottish Spring)
Classic event at Auchingarrich
Bruising and swelling developed further overnight, but Lyra was convinced that the main event of the weekend was still to be run so we headed up early to the edge of the highlands to Auchingarrich, stopping only briefly to watch a lek of black grouse on the moor. I elected to do a short brown course, and this was one of the most technical and physically demanding courses I have done [and will feature on the Scottish 6 days 2019, so beware!]. I carefully ensured that I made no navigational mistakes, but was still over 30 minutes behind the winner. The dense forest, lack of linear features, and a severe case of hypoglycaemia with 5 controls to go (should have had more porridge) was a good test of my navigation and fitness. Lyra on the other hand didn't seem to be affected by her swollen cheek, and navigated happily through the network of vegetation changes and semi-open glades on a challenging orange course. It was terrain similar to the New Forest but with dense plantations, rather than ancient trees, and with a few more hills. Lyra came in first on the orange, ahead of her Scottish contemporaries.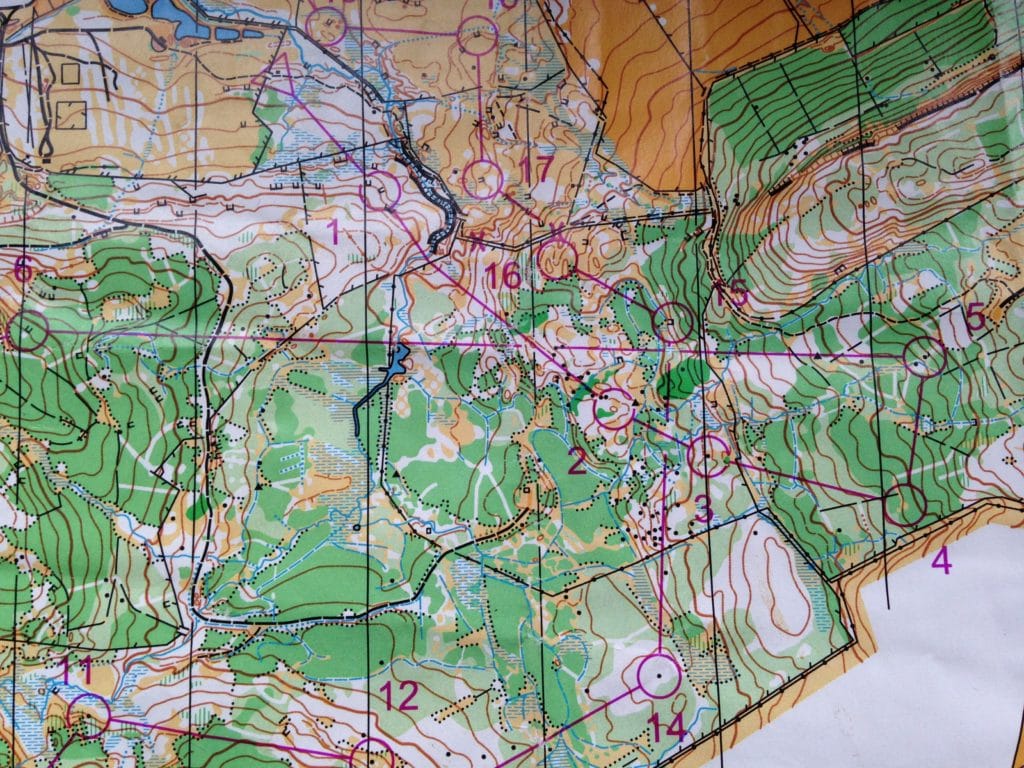 Technically and physically challenging Auchingarrich (Scottish Spring)
Our 3.5 hour flight delay got us home at midnight somewhat weary and battered, but I would definitely attend a few more Scottish event weekends. At least we know what to expect at Balmoral, and I may just opt for the M40 short!