Well, summer's almost over – and what a great summer it's been. Too many results to report since I last wrote the 'Chat', suffice to say that the WSX members who went to the Lakes 5 Days had a great time. Our 'old' friend Frida joined us, even wearing the WSX top on occasions even though she's now a member of Southern Navigators. Other friends from WIM and BOK were also there to make it a very sociable week. Without intending to, myself Ian and Kay managed to get entry numbers 1, 2 and 3 – and we couldn't let that opportunity go to waste!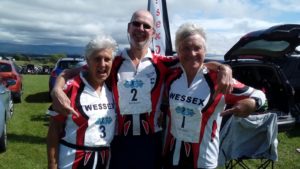 Peter Suba recently competed in Hungary, and here's his report:
Last week, I came 5th overall in M40 in the Hungaria Cup 5 Days international event, which was held in 30+ degrees on all 5 days. It is not bad considering that I am nursing a bad left achilles, a bad back (still), and from the second day on, a large blister on my right big toe…! In the last day with the chasing start I did catch up with the 4th place guy by control 2 and we did see each other most of the time until control 6 where I ran past the control and when I finally corrected the mistake I never saw him again…
My courses and maps are on:
IMPORTANT REMINDER
: please let me know by this Friday (August 31st) if you are coming to the AGM/Quiz on September 7th.
The orienteering season will be in full swing again soon (though it never really stops, does it?!) and those who love night orienteering will be eagerly anticipating the beginning of the Wessex Region Night League series, which kicks off with our event at Hillbourne/Broadstone on 8th October.
Before that, of course, we have our Dorset Delight at Agglestone, which Jon Brooke is planning. James Crickmore is the Organiser, and he needs to know if you're available to help, if you haven't already done so. Remember, you get 50% discount on the entry fee if you do! Helper's code is available from James.