A Super Sunday for our Dorset Delight last weekend, thanks to all volunteers for helping deliver a smooth event for the 169 runners who took part. We had great weather for the day and some superb courses to tackle. As with all our races theres always the chance to get better and higher up in the standings– my own Blue race 6.9 KM on this tussocky, boggy area was quite appropriate distance and again showed what the best areas in the U.K can offer to competitors. Several legs of my race were about contour interpretation, the most complex aspect of understanding a map. Thankfully I managed the open areas well however right towards the end reaching an area of gorse interspersed with some footpaths the clean run I had had up to that point turned into a 6 minute error…as always- theres always another time!! Special thanks to Jon Brooke for planning, James Crickmore for organising us all and Karen French doing the long early hours and extra visits to control this event.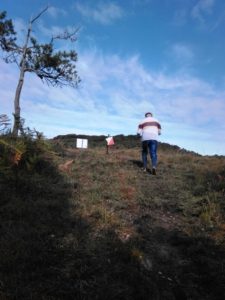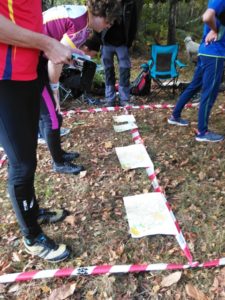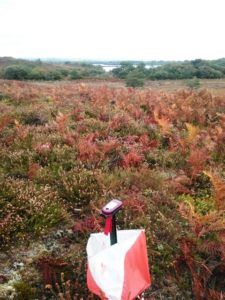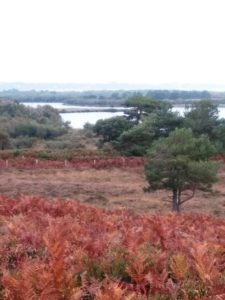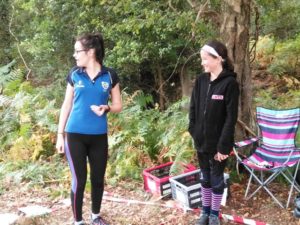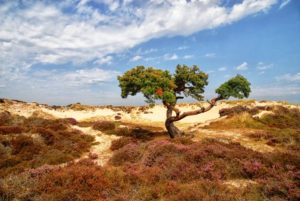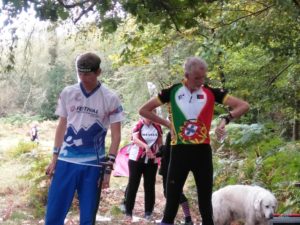 Well its less than a week until the first of the Wessex Night League– season next Monday the 08th evening we start again from the Blackwater Stream pub heading out onto Broadstone rec and the Hillborne area of Poole. Another cracking season ahead with several new areas to explore, always a great challenge and social which breaks up the winter season of longer time indoors perfectly. All details here on our website to share, if you haven't yet tried it night racing and urban events are a fun challenge in a strict time frame, cost you a fiver plus youre refreshments and theres always plenty of people available to help you before starting- get involved. The flyer here also shows another club which are now picking up the Night League season somewhere else, remember- WSX and Gavin Clegg began this all.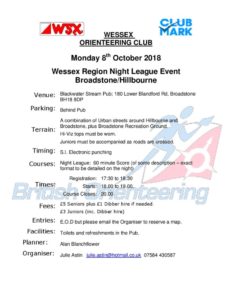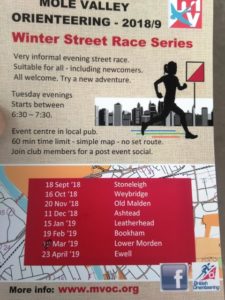 Finally its Tuesday training again, last few weeks on the trails before we head onto the back streets for our hill reps, see you there.