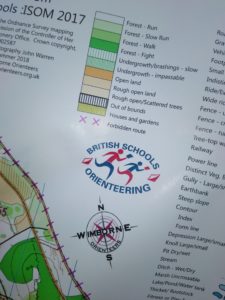 British Schools Score Championships
Moors Valley Country Park, Ringwood, East Dorset
13th October 2018.
Big weekend for Schools in the forest and great to see some local schools taking children to compete. 44 schools entered this national event. A score event with 45 minute duration provided the challenge and only 1 runner in the entire field collected all 28 controls! So a great place to race in Moors Valley with some pairs and solos getting that superb experience off the main tracks into the wild to complete their races. Some of the children wrote a sequence before starting which was is a good tactic whilst running and balancing the time taken as we do on Score events. Team results show the top performances here some good running going on.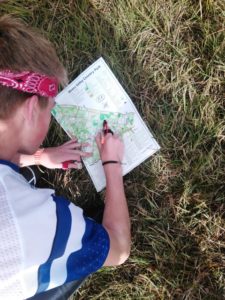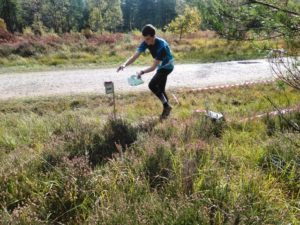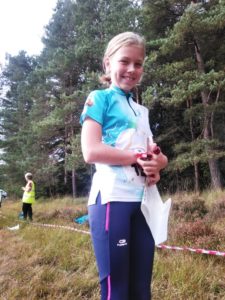 Grace French from our partner club WIM won her age group year 6 girls- well done Grace!    As always a big combined effort on the setting up and management of this event thanks to all of those who volunteered their time to make this happen. The prizegiving photos are here.
So a great end to the 2018 season of school events in the area: this year started with the Dorset School Games winter final (pic)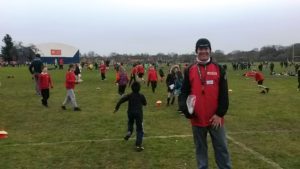 then the fourth year of PEDDSA spring inter-schools we held on Dunyeats hill and Broadstone Middle school, The Dorset School Champs came next and then the Dorset School Games final at Bryanston- certainly the most schools events held in one year locally since I started teaching this brilliant outdoor sport.
Onto even more wild adventures our team Medlock took part in the Devon Galoppen sunday just gone, and had some super results there both Jolyon and Lyra landing the 1sts! A big field of entries at Golden Dagger making this doubly satisfying for them. Heres a map excerpt that shows the rough open fell and contoured slopes- superb Orienteering country- well done again to the Medlocks.
Keep your photos and reports coming and Ill include them where they fit.
Tuesday training tonight then the second Wessex Night League thursday in Eastleigh- email the organiser for a map. Dont be afraid of the Dark. Jason