Members News- with their results in the Bournemouth Marathon race, John Cook and Ian Middlebrook have qualified to represent England masters in our age groups in the Home Nations marathon in York next year. Ian ran in 2.53! Serious marathon time there well done you dont achieve that without serious dedication.
Weekend just passed saw lots of action- starting thursday with the Wessex Night League Event 2- A full car of 5 Went over with the Sayers, Myself, Julie and Becca all enjoying what was a superb Night League area. You can see the 7 different woodlands on here that were interspersed with estate streets which meant linking all these in good sequence. My Strava shows an 11.3 KM run which might seem far enough to complete all controls-
however the winners Strava shows 11.0 KM dead:- Again sequencing on these events is all important for the competitive scorer, Nick here just going in and out of the big wood to controls without actually crossing it. Actually this event was super -enjoyable in the way we were in effect doing night trail running in the woods, even those of us who werent high in the results had a great time doing that. 47 Runners showed that Night racing is just growing each season.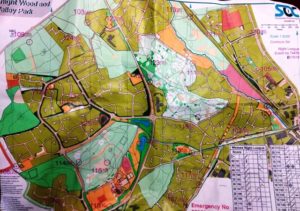 Next Night League Event 3 by WIM is on the gentle Hyde and Gorley commons in New Forest in a couple of weeks- dont miss it.
Friday Eve social next was a night out Ten Pin Bowling and then Circo Lounge meal. Plenty of Steeeee- Rikes!! going on there for a fun session, with the Circo crew looking after the group well in Westbourne- Thanks to Julie for organising that.
Back to the Orienteering and saturday Guildford put an event on Godalming- several members travelled up for that. Peter Suba with a great 2nd place in the mens vets- smart running.
Sunday was the final of the Compass Sport Cup in Cannock Chase Midlands, 15  Small clubs including WIM raced and they did well to grab a 5th, maybe next year we will get a team for that event.
Next weekend we have the SARUM New Forest area of Hamptworth to race in- as many of you will  know a superb mainly runnable forest area, then very important- November Classic time is here again, our WSX club championships. You enter the correct age group race to be included in this, its always a good social get together in our favourite forests, so dont forget to enter NOW.
Okay tuesday training is ON, with short hill reps the session tonight- You shall have to come along and be part of of it to see whether we go on the trails or onto the Original Alder Hills quiet road this eve- See you there. Jason
UPDATE- This sundays event at Hamptworth –
heres a map from 2013 entries on day available