A quiet weekend so only the Wessex Night League Event 17 to report on. This was the rescheduled from 31 January event cancelled due to that moody weather. Netley sits just over the Itchen bridge in Southampton, the event taking in streets around Netley and the parks in the area. 6 Wessex runners went along, in a field of 35. Peter Suba came up with a 3rd with only 4 of the field finding all controls. Good running Peter- with just two events left the league totals are just about set so watch out for those appearing soon, our last Night event of the season will be the prizegiving awards- never know the points might still need to be decided on the last two events as they were last year. There are actually two events next Saturday the 02nd and we have tow WSX teams for the second ever Sunset Relays race– a new format that goes from dusk to dark and gives clubs both day and night racing to complete in the relay. Last year was great fun an we had top 2 winning teams. James' write up well worth a read, we look forward to this again SOC.
From Quantock Club theres a new idea for Urban racing, the Maprun. Great idea of a new APP for phone use, this is the way its going so do have a look at this. I wrote the name in 2016 myself and rate it as a super title so nice one QUOC.  This Thursday eve up in Yeovil which is an hour from Blandford- meeting at the Arrow Pub, NW Abbey Manor Park– another Night event using a new format- do hope some WSX members can make it up. Read details below and hoping to make it myself.
Tuesday training this week is Medium hills and its getting light now at 6 giving us all the spring in our step to get on the heath soon for 6 months Trail Running.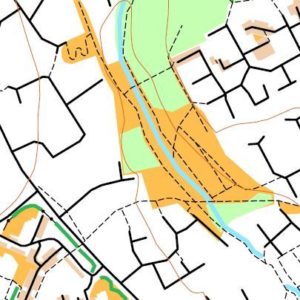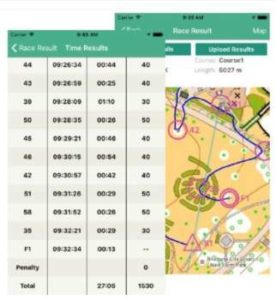 Please ensure the smartphone you intend to use has:
GPS capability
A fully charged battery, ideally (the app might use half of this charge)
The latest version of the MapRun app installed
The course you intend to run pre-loaded
The GPS facility activated
The final version of the courses will be available to download onto the app 48 hours before the event at:
Event / MR UK / MR Quantock Orienteers / Spring 19 series / (event name & name i.e. Long or Short)
We'd be really grateful if you could let us know if you're coming, to help us determine map numbers.
Latest versions: as at 23 Feb: Android- v50.9, Apple v 10.0.06
Equipment
Please wear or try to bring:
a smartphone, preferably in an arm holster
running shoes with decent grip (for grassy slopes and areas with light mud)
And if you're running after dusk:
a headtorch plus a spare, or spare batteries
clothing with a hi-viz element or flourescent panels or trim
Map
Produced from Open Orienteering Maps. See map excerpt above. It contains more detail than a basic 'stick' map of the streets, but less detail than OCAD maps. Please note the blue used in rivers and streams doesn't look too different to the green used for woods.
Forbidden routes will be marked by a purple cross or a series of these, most obviously for safety and access reasons.
They are occasionally used to exclude from your route choice an option which doesn't present a technical challenge i.e. a long straight road.
Link: read more about the technical aspects of the map
Safety
The priority for all entrants should be to return safely.
We are using predominantly residential areas with 30mph speed limits. These areas are sometimes bounded by faster roads, which there should be no need to cross.
Suggested (but not compulsory) crossing points (the symbol is two purple curved lines) are marked on the map.
Forbidden routes are marked with purple crosses.
The above two symbols can look similar- take care!
Public fences and walls should not be crossed unless they can be without climbing and danger of injury to competitor or damage to the barrier.
Please show courtesy and understanding towards those you encounter on your run. A friendly 'hello' can often smooth the way.
You must take a paper map with you and should not rely on the onscreen map, which may not be the most up-to-date version of the map.
All participants must return to the assembly point before course closure time of 8pm, even if they have not completed their run. Results must be uploaded to the server at that point.
Juniors
Under 16s taking part must be accompanied by an adult at all times on the course.
After event
Each event starts from a pub/restaurant, giving you the option of unwinding after your run.
Directions / Parking
Within close reach of the A3088, A37 and A30, and the A303 to the north.
Free parking is available on the Forum shopping parade (which has a Tesco Express), Abbey Manor BA21 3TL.
The Arrow pub (pictured) is close by but parking is for customers only. We are hoping to obtain permission to park there.
If you're dining there, steaks are on special on Thursdays (£6).
Course Information
Two courses are offered, Long and Short, using exactly the same controls.
Both are "Score" courses, meaning there isn't a set order to the controls you visit.
Short Score- the order of the controls you want to visit is entirely up to you.
Long Score- there are two sets of controls, one set tackled after the other. Once you switch to the second set, you cannot go back to the first set.
The optimum route would typically measure as follows but might vary 1km either side of these figures:
| Course | Straight line | Real route |
| --- | --- | --- |
| Short | 5 k | 7 k |
| Long | 7.5 k | 10 k |
Each course has a time limit of 50 minutes.
Points will be deducted at a rate of 30 points per minute for each minute or part minute you're late back.
Points values for controls are variable and denoted by the first number of the control, e.g. 62 scores 60 points.
The control circles on the map are coloured red on one set and blue on the other- the colours are meaningful only for the Long score.
For those who took part in our QOADs series, the Long score uses essentially the same scoring system.
Link: more on the scoring systems
Control locations/ descriptions
Your phone should beep when you get within 10m of the "control".
Occasionally, your GPS signal may drift- you may have to wait a few moments for it to 'catch up'.
Our GPS controls tend to be located on lamp posts where the GPS controls work well. Wooden telegraph poles, signs and other street furniture, fences, bridges and play or sports equipment in parks may also be used. Those controls that are not on lamp posts will be listed on the map and on control description sheets.
Entry Details
Registration
Please print off and fill in our standard registration form in advance (or email it to us) as we are trying to keep the event organisation low key.
Filling out a Registration form (link)
Ignore the boxes about 'SI' unless you are hiring a club phone, in which case fill in the details we usually request off those hiring SI dibbers.
Entry fees
£5 – for both adults and juniors with accompanying adult.
On payment you will be given a PIN code which will activate the course on the app.
Hire of equipment
We have four tried and tested Alcatel club smartphones available for hire on a first come, first served basis. Please contact the organiser in advance to reserve one.
Smartphone hire- £1
Headtorch hire- £1
Charge for lost/ broken Smartphone- £40 (replacement cost)
Registration & Start Times
Evening event.
Start times from 17.00 to 19.00.
You effectively have a choice between running in partial daylight or in the dark.
Courses close at 20.00.
Terrain Description
Varied suburban environment in a relatively new part of town, with excellent path network, various parks and green space, including steep woodland to the east of the river that bisects the area.
Map
Scale is 1:5000.
Safety
There is a busy main road partly encircling the estate to the west, and close to the Start. The pub lies adjacent to this road. Please take extra care crossing this road and consider using the crossing points which are marked on the map.
Courses have been planned to avoid the need to cross this main road more than four times.
The area is bisected by a brook and steep sided grass banks.
Various alleyways can be avoided if desired. Most of the area is streetlit.
The priority for all entrants should be to return safely.
Please show courteousy and understanding towards those you encounter on your run.
Facilities
The pub advertises as having free WiFi.
Contacts / Officials
Planner: Jeff Pakes 01823 321900 website@