Compass Sport Trophy in Roundhill New Forest. Our team co-ordinator James Crickmore said :-
"Thank you for everyone who came along to the Compass Sport Trophy Round today. It was rather wet underfoot with the occasional downpour from the skies, but it was nice to have a good area of runnable woodland for a change. I hope everyone enjoyed their runs.
We finished in a respectable 3rd place among the small clubs. Both SARUM, who won and qualified for the final, and WIM who came 2nd are both near the threshold of being counted as large clubs, so they have a substantial number advantage over us."
Our results
 Course 1 Brown
James Crickmore 93
Course 2 Short Brown
Peter Suba 100
Jolyon Medlock 98 98 98
Jason Falconer 94
Course 3 Blue (Women)
Laura Wilcox 91
Course 4 Blue (Men)
Ian Middlebrook 98
Jonathan Brooke 97
Graham Whiffen 95
Roger Crickmore 91
Bruno Smith 90
Rob Hick 86
Course 5 Green (Women)
Nicola Brooke 97
Rebecca Medlock 92
Course 6 Green (Men)
Tim Houlder 91
Course 7 Short Green (Veterans)
Julie Astin 92
Sarah Houlder 84
Celia Robertson 81
Sheila Gold 77
Madeleine Bridle 76
Alan Hooper 74
Course 10 Short Green (Super Vets)
Bill Brown 90
Course 8B Short Green (Junior Women)
Lyra Medlock 100
Agnes Brooke 98
Course 9A Orange
Arthur Brooke 98
Course 9B Orange
Eskarina Medlock 98
total 1252
A very close competition! the full team results are here,   and then if you want to compare your own performance here.  
Lots of good efforts made by all, so well done its a great chance to see everyone together. Winning teams go forward to a final later in the year.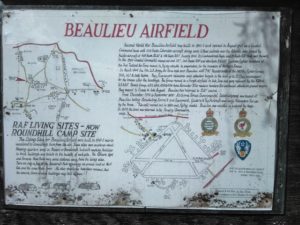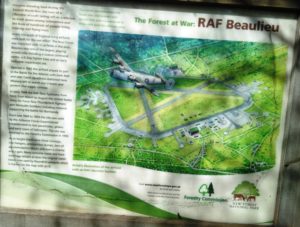 Where we were- like much of the New Forest areas were given over to Army needs during wartime. Imagine a typhoon setting off from inside there!
On the way to and the starts.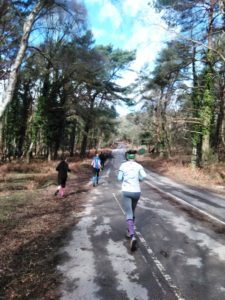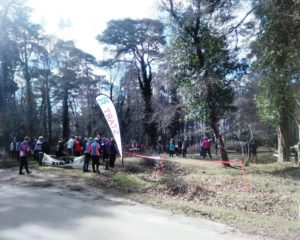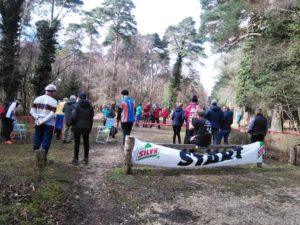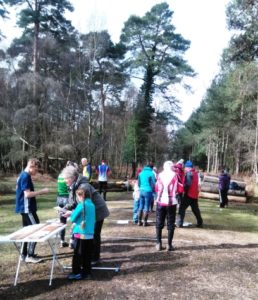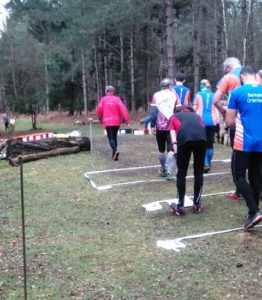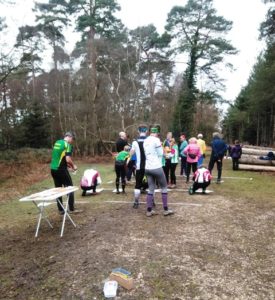 Superb area of mature forest with lots of streams on an almost entirely white map.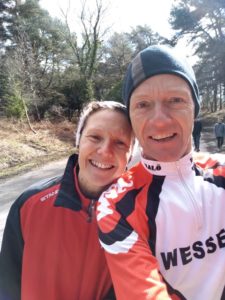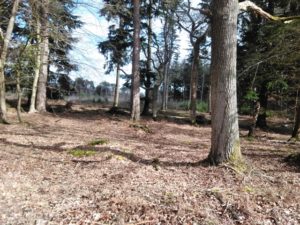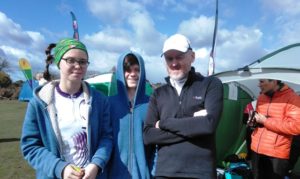 Nic and Jason to the sunshine starts. Jon is still the tallest in the Brooke family but only just!!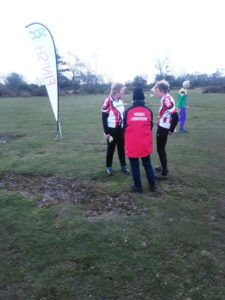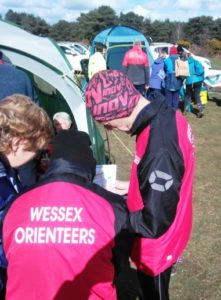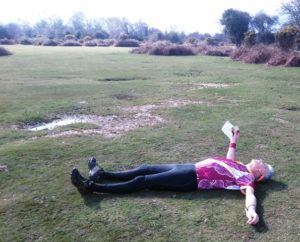 Post race:- map analysis,  and how you feel after running through deep forest, with fallen trees to jump, streams to cross, marshes to hopefully not disappear into all while navigating on the clock-Brilliant fun.
This saturday- our Prizegiving social at Queens Park, with a run of course! Hope to see lots of you there as well, map has been updated so come and check it out. Runs from 1PM.
And tonight, theres been a day to recover so its tuesday training with Medium Hill reps. Only a couple of weeks before we go out on the Talbot heath again for trail running, why not come along?