J.K Time.
Every few years we have a late Easter and great weather for the entire time, last weekend was one of those times. Funny I remember once in about 2008 when the J.K was also in Surrey Hills some Swedish friends had travelled over for the event weekend and experienced the foulest freezing sleety weather where we sheltered in cars for almost the entire time other than running, ah British Weather dont you love it. 10 of us went and stayed in Fleet in a Girl Guide hall which Tracy Crickmore arranged – thanks Tracy you star!
Day 1 the Sprints in the Garrison gave everyone a challenge made more intense by the sheer numbers of runners everywhere, much of the time in big events like this there is the skill of just not being distracted by others and solely staying in contact with your own course. Still waiting on actual results as the tech (emit) failed and many splits were incorrect and they are still to be decided on,
look here
for all results of the weekend are to be found. As of publishing at 0800 Tuesday they arent finalised so keep looking.  Day 1 Lyra Medlock our top performer won Gold in W12 JK sprint beginning an incredible weekend of 1sts.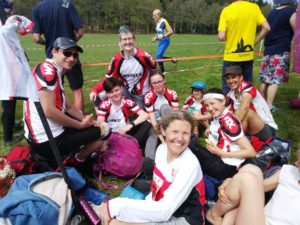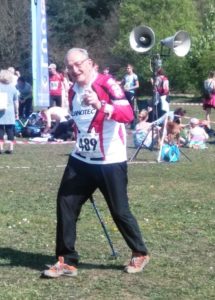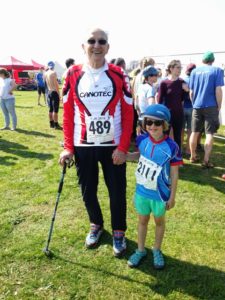 Sunshine pictures it was a great weekend with several things to celebrate here. Above you can see the club relaxing between races, we assembled around the club banner that made it easy to find everyone and were next to WIM. Food as always was great from a couple of vendors and the traders also had the usual selection of every piece of O kit you can imagine. One of the WSX founding members Andrew Beldowski came over from France and is shown above with Eskarina Medlock, Andrew was the only M90 competitor, some longevity! We liked seeing him with Esk whos 9- shows our sport is truly cross- generational. Well done to Andrew on the podium picking up the winners prize despite being the only entrant- theres an idea- stick at what you do for long enough and you may become the only one remaining to win!
Day 2 WSX had 13 runners competing,  again our top performer Lyra her 1st on Day 2 Middle Distance race was from 76 runners on that course of all ages, absolutely superb. A mixture of other results from the club with tricky hilly areas, lots of controls all over the small area- classic middle distance racing.
Day 3 the Long Distance race 15 took part in. A variety of good performances with Tracy 11/32, Peter 26/75  on his long hot race, the heat was affecting many people and some from those who didnt make it will be glad of that. As always these areas were superb forest with the best quality mapping, protected year on year as Military land Surrey is really lucky to have so many great forests like these, and of course being an Orienteer means you get to see places that the regular public never see. Ali also placed a good 38 / 85 which shows you how many participants take part- I always like seeing all the different nationalities racing on the same terrain.
Youth wise Lyra again took a 1st from 25 with Grace French close behind at 5th. Picture below on the Podium also shows Harry Bratcher- Howard of WIM Orienteers 2/ 33 and a 3rd overall- great to see these youngsters who race with each other regularly on the podium. Eskarina also took Bronze overall for her W10 age class overall JK-catching up her sister!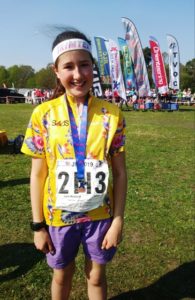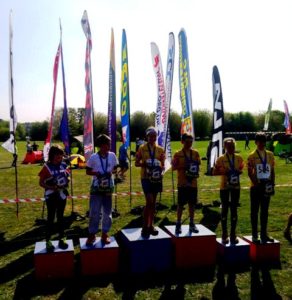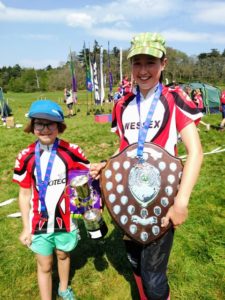 Lyra was Gold JK overall, plus Best Individual Performance by woman at JK festival for which she recieved the huge trophy above,  seems like space on the mantelpiece is going to be tight at the Medlocks! Keep enjoying the racing Lyra.
Day 4 Relays we put in 3 teams below, loaning club members to BOK and WIM to make up their teams.
We think we won silver at the mixed adhoc relay (Peter, Lyra, Jolyon), but the results are not yet confirmed. Huge amounts of fun doing relays well done to all those who took part.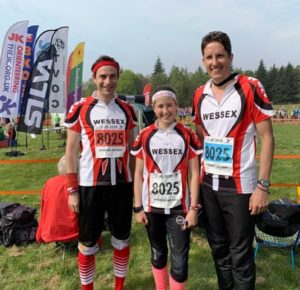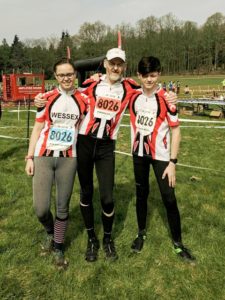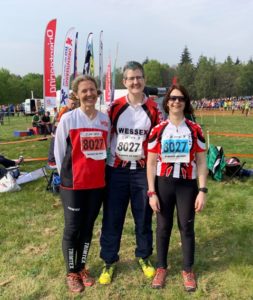 Lastly I'm proud to have picked up the Club Coach of the Year 2018 Award. Each year British Orienteering presents a number of awards to recognise the incredible effort and impact delivered by clubs, coaches and volunteers across orienteering.
This is given by BoF yearly to one coach whos "engaging new people in orienteering, improving the performance of orienteers and mentoring and developing other coaches" Theres lots of other coaches nationally so this is a real honour to recieve- thanks to the nominees and National Development Officer Craig Anthony who I'm here pictured with- what a great weekend.
Its Tuesday Training tonight again, no changing room this week as BU is off timetable, but the trails are still waiting for us with short hill reps session. Then Saturday SOC have a summer series event at
Itchen Valley
– great local so get on down there. See you soon–Jason