Hello bit of a quiet week to report this week, the Devon Club held an event down at Haldon where the Houlders went to, Tim coming a respectable 11th from 21. Other than that Im not aware of other events members may have travelled to. So its September again and the start of what always used to be the Orienteering season proper, as the bracken dies down and the forests are left open again -thats when we can plan and use those open spaces like the New Forest that we love to run in. This year the Caddihoe Chase is in Devon near Yelverton/ Sheeps Tor and Im hoping to make one of the days there. Planning for the Wessex Night League is in progress Ive taken on the first event at Poole. This is one of the first Urban maps to be produced by Gavin Clegg in 2012, and every time I use it Im still amazed at how we dont really percieve Poole as an Island but it is really, surrounded by water right from the station/ Asda round to Baiter Park. Living there I guess it was a natural choice for me to take this on, and theres still control locations that youve never been to to be found on the 21st October- so if you havent tried it come down to the quay for the first of our Night League events running right through the Autumn-Winter. Still have a few weeks of trail running tuesdays before the clocks change and tonights is medium hill reps. Schools are back and Im currently making a new map for Blandford St Mary, this is one of those sites that if you can imagine a diamond cornered square on a Landscape map, fits that way. All 4 corners of the map N-S-E-W- have little interesting features out of sight from the centre with a nature trail and more- Its going to be an exciting place to explore. On the subject of schools my last Academic Years brief report is here so for a read today why not check out what Coaching and other work Ive done before this year gets into the swing.
Thanks for reading- remember the AGM is coming up with Free Meal so do answer Julies email, and we still need help for the Dorset Delight in October.
Poole Night League Flier 2019 21 October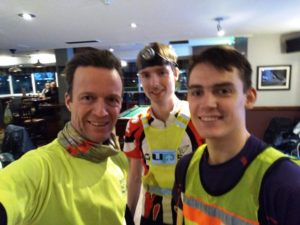 Night League.