Hello Half Term people. The clocks have done that debatable thing in changing again so I hope youre starting to make the adjustments- Im writing this before 8 today, as the only way I can deal with it is getting up at first light, 630 to make the most of the days of Autumn. So whats been going on? SARUM yesterday had 11 club members at their Sidbury Hill event, that place always reminds me of the mountain on Close Encounters of the third kind, its sloping all around then flat on top- with loads of tricky earth features- cant wait to see the maps at training tommorrow.
Results wise
, special commendation to Agnes Brooke who seems to really getting her groove on with the Orienteering now, 4/ 58 on the TD5 Green course-nice running! Also James Crickmore got a 4/23 beating several regular Night League racers.
Splits and the rest all here too
, looked like a good day on the hill do send any pictures.
Moving on-Some of you came to the Brookes excellent Wood burning Pizza night after the last Wareham Urban, Jon has asked me to invite you to this below which is coming soon in Wareham–
"Agnes Brooke is going on a month long trip to Borneo in 2021 with the Kingsbere Explorers, and she has to raise some money for the trip.
She is having a quiz night at the Wareham Scout hut on 23rd November – similar to a standard pub quiz, but because it's not actually a pub it is open to older and younger folk alike – and so the questions will be a suitable mixture in a probably impossible attempt to please everyone!
Price includes a veggie chilli supper, though let us know if you have any food allergies or intolerances and we will make sure we don't kill you."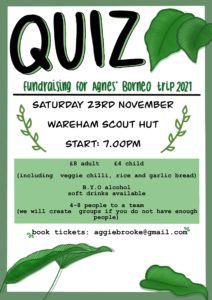 We have a big few days of local events coming up now-
wednesday at Round Hill
in the New Forest M.L.S Army race, thats a good one.
BAOC also doing the Southsea
WSX N.L event 2 on friday eve, then the big November Classic weekend and our club champs. Saturday is the Chichester Urban a brand new map for that, Sunday is in Bramshaw near where I coached last weekend (I felt so lucky with the weather on saturday just gone-Imagine if it had have been like that for my coaching weekend! yuck.)
Final details
and
times are published
so I look forward to seeing all club members participating. Good luck! we might have a tent up with banner as our base to run from so any help appreciated on the day.
Then on the Monday we have another
Night League returning to the excellent Wareham map
, this time based at the Kings Arms which is the best pub in Wareham IMO anyway. Remember the way Wareham is Orientated with West Street / East Street off the centre crossroads North/ South makes it super easy to navigate around, so dont be scared, come down to this event and socialise as well as running- its the best way to get through the next 5 months.
Pre-Enter here
and Dont Be Afraid of the dark.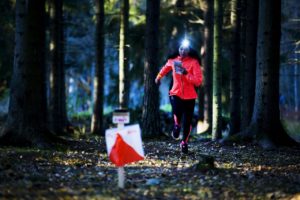 Those of you that might follow the World Orienteering Scene,  China held the World Middle Distance champs recently and there was a mess up on the map, with an area of out of bounds being badly marked, meaning some runners raced through it and gained unfair advantage, you can read it all on World of O here.
tommorrow- its the first of the street training tuesdays, with a short hills session, social after.
STOP PRESS. Orienteers smash the 1st and 2nd places at the OMM in the Elite class this year, including Tim Morgan of SOC
Finally, if you want to make your head hurt- have a look at this photo of day 2 of the OMM from the weekend, posted by Nick Barrable , nice leg 1-2!!