Jolyon said this about SN event
"Sunday was the SN Trophy event which is usually in fantastic terrain in Surrey with previous years at Hindhead, Ash ranges and Long Valley. This year saw a return to Old Windmill Hill, where we enjoyed a hot and sunny day at JK 2019. Again the sun shone and with a slightly extended map a few WSX enjoyed some great courses traversing the endless re-entrants, crossing over the Basingstoke Canal by the lock gates and hunting flags in the wartime trenches.  Its a super area and always a privilege to get such access to these off limits BAOC ranges. Esk had huge fun completing her second orange on her own. Rebecca and Lyra competed on Green with Lyra coming 3rd. Peter and Jolyon challenged each other on Short Brown both having good runs with Peter taking the honours"
Monday BADO hosted a great Night League at Kempshott, Only second use of this map I would say that its second only to our Poole map, fantastic Urban Night race was a straight score, with lots of interconnected tracks meaning many many decisions for runners. Brilliant mapping Alan Kersley well done. I enjoyed it greatly getting into the dark immediately which may or may not have been best route choice and ran the whole map but couldnt get into a good sequence to collect all. Always another race, and in fact its this thursday in Newbury, so keen Night Leaguers get along.
Results show
another big night with Alan coming 3rd on  tight finish with all controls.
Wednesday theres the usual MLS on Sidbury Hill again if you fancy it.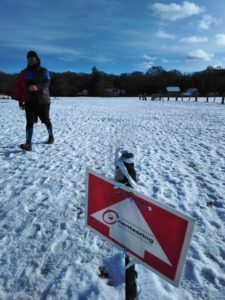 Tuesday training tonight of course, wrap up- we will be having a social meal soon for the xmas, have you started on the Mince pies yet? we have- BADO were giving them away last night with tea after running the Night League