We've decided to share out the weekly 'chat', so Jason, Jolyon, Lyra and myself are going to take it in turns to write something up every week, if all goes to plan. So this is my turn.
After a flurry of events in recent  weeks,  there's actually not much to report on this week. The main event that  a handful of club members went to was the Southern Championships weekend in the Forest of Dean. The multi-event series kicked off with the Middle Distance event at Mallard's Pike on Saturday, organisedby NGOC. The Medlock girls did really well here, with Lyra coming 4th/99 on Green, and Esk a fantastic 3rd/19 on Orange. Jolyon did well also, coming 7th/41 on Brown. Looking at the Routegadget, you can see that the area is covered in a network of ditches – a nightmare to map and to find controls on!
That evening there was the Southern Night Championships, held at Caerwent, near Chepstow. 4 of the club members went along and aquitted themselves well:
Alan Blanchflower 18th/35 Brown; and on Green were Gavin Clegg 2nd/48 (entered as BOK, but now a WSX member!), John Cook 5th;  and Rob Hick came 25th/49 on Blue.
On Sunday, the Southern Championships and Mike Nelson BOK Trot was held at Cannop Ponds, organised by BOK. Once again, the Medlock girls did themselves proud with Lyra getting a Bronze Medal on W14A (she's W12, so a great achievment) and Esk got a Silver Medal on W10A. And here's the photo to prove it!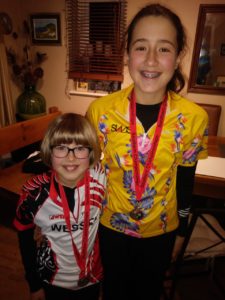 Jolyon had another good run, coming 4th/12 on M45.
So, onto the coming events, starting with the SOC events at King's Garn in the New Forest on Saturday 7th. There's a daytime event and then a Wessex Region Night League event – a real forest night event, for a change! But it's based at a pub, so that's good. All details on the SOC website.
Then there is our Night League event at Christchurch, on Monday 9th, based at the Thomas Tripp in The Shack. Ian has planned this one with Sheila and myself overseeing the event on the night, and I hope we get a good turnout – PLEASE reserve a map using this link.
On the following Saturday (14th) , SARUM are hosting an event on Hampton Ridge East.