It was good to see so many WSX runners out over the weekend where we had three consecutive days of orienteering: a fast and hilly urban in Harnham in Salisbury, under the shadow of the most impressive cathedral in England, followed by a long, tough day in the sunshine, "running" over New Forest heather and bracken at Milkham and Slufters, followed by a dash around the dark streets of lovely Tisbury. 
So let's first start with Salisbury urban. As ever there is a lovely report by Peter Hambleton on the SARUM website. 9 WSX turned out, and it was good to see Michael joining us for the longer course. Results can be found here. Having walked through the city centre through the mass of shoppers, I was delighted in the start lane to see that we were heading out to Harnham, but knew very well that the Harnham slope bisected the area, and that the 230m climb was not a planner's mistake. Having climbed the hill twice, I felt like I had my money's worth. A few of us convened afterwards for a birthday pizza for Esk, before an early night in readiness for the Club Champs.
The weather at Ocknell was perfect. Cool and sunny, and a lovely open runnable terrain ahead of us. Suffice to say it was a tough day crisscrossing the heather, bracken and bogs, but nice to enjoy an atypical day in the New Forest, with hardly any vague ancient woodland running (where I always make mistakes). The results and routegadget are here.
We had 25 members turn out for the WSX champs, and it was good to see Fern join the competition for the Ladies trophy, and Peter who flew in especially from Budapest. 
James has very kindly calculated the WSX championship results. 
The winners are:
Ladies champion
GOLD Lyra
SILVER Julie
BRONZE Laura
Men's champion
GOLD Ian
SILVER Gavin
BRONZE Jon
Well done! 
Further details are below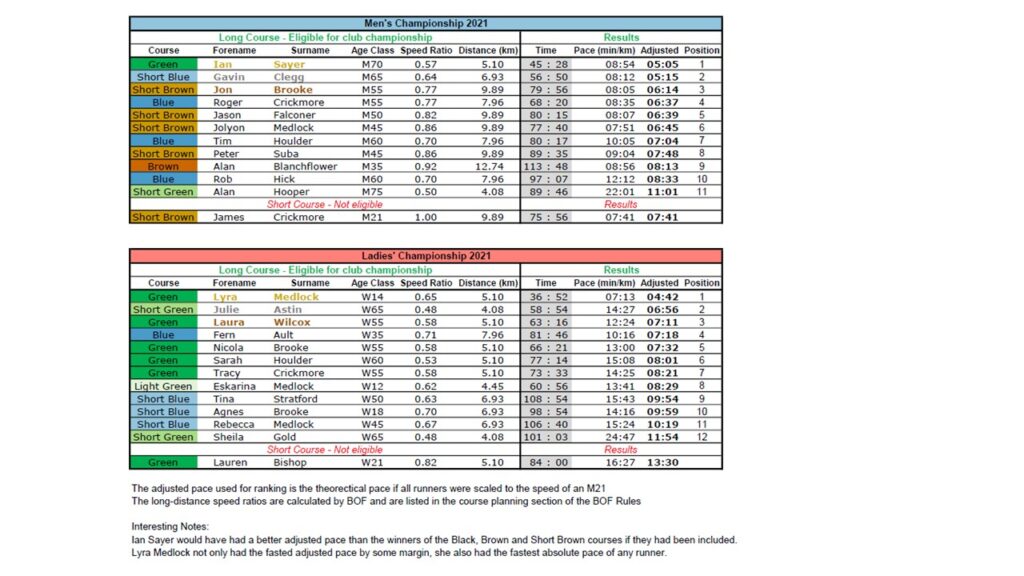 On the Monday night and it was back to night orienteering. Some of us had home advantage, but nevertheless WSX members grabbed all 3 podium positions and enjoyed a lovely evening in the local pub. Our presence, running around the streets with headtorches, caused much interest from the residents of this sleepy village.
One final thing to report from the Caddihoe weekend, was the successful SW middle and long distance champions:
SW championship successes for Esk, Lyra, Fern and Rebecca in Middle distance – and Alan Blanchflower, Jolyon, Gavin, Bill, Esk, Lyra and Rebecca in Long distance.
On to upcoming events, there are 3 to choose from this weekend:
Have a good week
ps. Fancy a week of orienteering in Kintyre and on Arran? 
Coast and Islands 2022 is now confirmed for Monday 25th to Sunday 31st July next year. With Monday to Thursday taking place around Tarbert, Kintyre with Saturday and Sunday taking place on Arran.Entries will open at 9am this Friday. There will be 200 entries available. Not quite room for the 334 of you on this email list!Further details can be found on the website.