Firstly a message from Ian to please renew your membership, you will all have received an email from BOF.
A busy weekend of orienteering to report on. For some members it was the SARUM Southwest league event on Salisbury Plain at Sidbury Hill. There were good results for Ian on Blue, Julie on Green and Liz on Light Green. 
Last Thursday, night orienteers headed out to SOC's night event at Brockenhurst in the New Forest. This was round 6 of the night league, with good results again for the long-legged fast runners Alan and James, leading the way. This was quickly followed by our own night event at Canford Heath on Monday night. There were 18 WSX members out and good to see newish members Martin, Fern and Michael getting the night league bug. For a change I attended, and ran around (mostly behind trying to keep up) with Lyra. Thanks to Dale for planning, and to Ian, Tim and Julie for organising and ensuring we had an enjoyable night. Dale's planning was fiendish as ever, making it possible for only one M35 to actually manage them all. The open league tables and handicap league are updated on the website with our top WSX on the handicap league currently Alan, Ian and Jason as the top ranked WSX Men and Sheila and Julie the top ranked Women.  Tim has put the Canford map on routegadget, so do upload your route.  The next night league event is organised by BAOC in Winchester
Further afield there was orienteering at the weekend in the South-east. I took my clan to Chatham Historic Dockyards for the SE sprint championships organised by DFOK: two rounds of sprinting over cobbles and railway tracks around the docks, between and under warehouses, over 19th century ships, under submarines in dry docks, and on various levels on high level gantries in and amongst the collection of lifeboats (see the map below). If you ever get a chance to orienteer there, I totally recommend it, it was brilliant. Although I wasted a good minute unnecessarily going over and under vessels, for the experience! On the Sunday we attended a CHIG national event at Epping Forest with areas of lovely runnable beech woodland, and other areas of densely scattered and disorientating holly. It's staggering to think that Epping forest was almost grubbed out for development and was thankfully saved for conservation. It's a timeless landscape on the edge of London. There were good results for both Lyra and Esk on both days, with Lyra winning the green at Epping by almost 8 minutes, and Esk coming 2nd on the light green.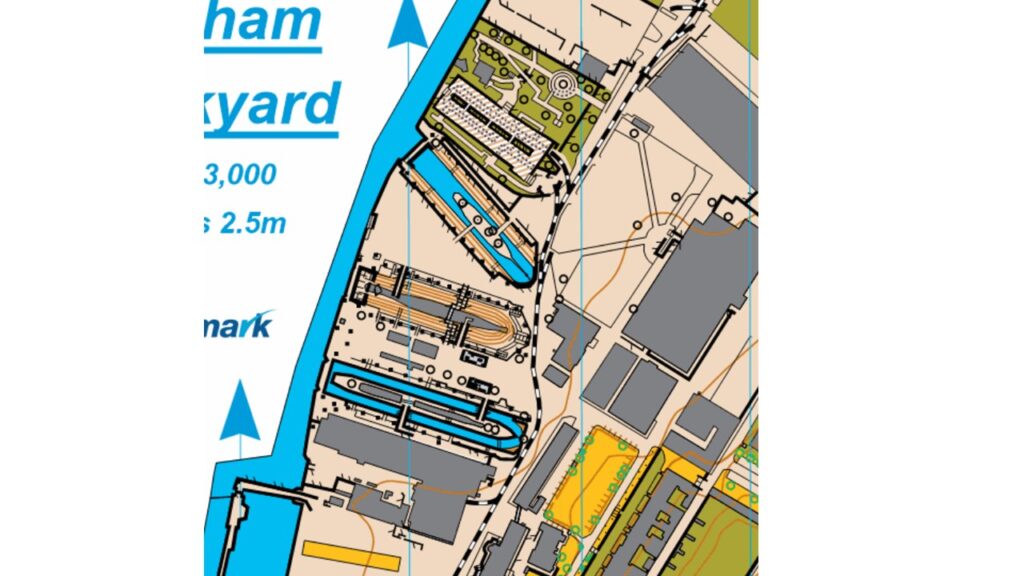 The most prestigious event of the weekend though was the Veteran Home Internationals, where Gavin represented and won for England. Here is his report:
"Even though it was many years ago, I can still remember the thrill of being chosen to play for my school, first at cricket then orienteering. Then being picked to represent my county, Somerset. Then winning a south west championship, followed by a southern championship. Then a few British titles. All thrills. That feeling never seems to wane as I was again thrilled to be picked to represent England at this year's Veteran Home International. It did come as something as a surprise as on the England Orienteering website the VHI was billed as being cancelled. It was originally due to be held in conjunction with the November Classic. However, I had an indirect email (via Julie Astin) inviting me to be England's M65 competitor.
It transpired that SLOW (willingly?) had volunteered to step in and put on the event at short notice. They had a couple of excellent areas to use: Winterfold and Pitch Hill for the individual (used for a British Championships) and Glovers Wood for the Relays. Now being held on 4/5th December. A little bit frustrating though as I was really looking forward to the sprint race at Chatham Dockyard on the 4th followed by Epping Forest on the Sunday. Literally 5 minutes from my front door. Hey Ho!
For those unfamiliar with the VHI's: it is an annual competition between England, Ireland, Scotland and Wales. With 1 M/W 35, 2 of all the other upwards age categories, finishing with 1 x M/W 65. Making 24 in the Team. Sarah Brown was coordinating the team. Her last time in the role, having done the job for 23 years and was inducting Amanda Crawshaw into the role. Both did a fantastic job.
Normal accommodation for a VHI on the Friday and Saturday is usual somewhat basic to say the least. This year was a bit different. Partly due to covid, partly due to the contracted time frame, we all wouldn't be staying at the same place. I was due to be staying in a pub, which wouldn't have been too much of a hardship. The pub however decided to have some renovating done and cancelled the booking. Thanks to Sarah's intervention the pub agreed to find alternative accommodation. Which is why eight of us ended up staying at the Guildford Manor Hotel and Spa. Including pool, jacuzzi, steam room and sauna. Result! Not quite perfect though as strangely for a spa hotel, breakfast was 'cooked' only – no cereals, no fruit, no pastries! Not exactly what the athletes were expecting. But that was a minor inconvenience, the Jacuzzi was wonderful for tired legs on the Saturday afternoon.
There are individual races on the Saturday and relays on the Sunday with trophies for both and a further trophy for the overall. Both days were a little chilly, but the 30 minutes to the individual start was a good warm up. I, like countless others messed up no4 on the short blue. We all took a bearing from the car park and ended up to the right of the control in amongst unmapped thickets. I lost about three minutes but kept plugging away round the rest of the courses 16 controls. The penultimate control, only 250 metres from the finish was tricky. At control 14, according to the splits, I was in third place behind Alun Jones for Wales and Barry Elkington, as Chair of England Orienteering, running as a guest. I found 15 cleaner than they did and was fortunate to win, giving England maximum points. The Team did brilliantly and finished well ahead of Scotland, Wales and Ireland.
The relays are, as you would expect, very competitive. There are two classes: MWM and WMW. I was running first leg in the England 4th team in MWM, which is no surprise given I was the eldest in the Squad. My teammates being Ruth Kerr and Tom Davies. Our job was threefold: To keep the other three England teams honest. To ensure we dibbed everything in case one team got disqualified and to beat as many of the other Countries teams as possible. As it turned out the three of us had reasonable runs and we came 5th overall, only being beaten by England 1&2 and Scotland 1&2. Definitely job well done. In WMW England had a clean sweep being 1/2/3/4. England took top honours in the relays and therefore the overall trophy as well. A brilliant weekend coordinated superbly by Sarah and Amanda. Thanks also go to SLOW and their team that made it all possible. Results and route gadget can be found on the SLOW website.
At the relays I was chatting to Alan Leaky, the event coordinator, who said he had just been talking with the landowner who had asked how all the runners knew where they were? Alan had then spent some time showing him the map of the area and explaining how they navigated. If it were me, I think I would have said: 'oh they are just lost most of the time'!"