It has been a challenging year for everyone, but orienteers up and down the country have made the best of the time since last winter when we were all locked-down. For WSX we have had some successful events at Rushmore, the Caddihoe and several night events. Some of us went to the Scottish 6 days, various British Championships, but of course there was no JK again. Some of the highlights on the O front, were two of our members representing England at the JHIs and VHIs, and both being crowned British champions on 2 and 3 occasions. Another highlight for me was the efficient and committed way in which all the WSX team delivered events at great speed and with short deadlines. The club membership also seems to be growing steadily and we welcome new members including Scott Elford who recently joined us. Don't forget to renew your membership, otherwise it will elapse on 31st December. We have had several occasions over the year to enjoy each other's company, whether it be in a woodland, on a Tuesday night run, on a beach in Scotland, in a pub at a night event, or through amusing chatter through email or social network groups (contact me if you want to join the Whatsapp group). We pride ourselves as a friendly Dorset club, and I for one certainly feel part of the WSX family.
2022 will hopefully be an exciting year for the club. Jason is about to launch "Find Your Way", a Sport England funded BOF initiative to engage communities in orienteering. We will have our main regional events at Agglestone in February and then hopefully on our new venue on Studland dunes in October. There will be a chance to try out Studland in early February too. Julie has been working on a map for Swanage, so expect a night event there next winter. Hopefully a map for Corfe Castle and Common too. It is worth noting that it's thanks to National Trust on Purbeck that we are allowed access to all these sites, and their support of orienteering in the region is welcomed. On that note, Eric has had some very positive discussions with NT on Brownsea Island, and we hope to re-map the island following habitat management works, and maybe offer an annual night event again. We are always after ideas for other areas to map, perhaps the complex quarries on Portland, to go with Jason's maps of Portland Underhill. Don't forget that there are numerous new MapRun and permanent O areas, at Portland, Durlston Head and Sturminster Newton that you can try out. These currently appear only on WIM website, but will be added to WSX soon.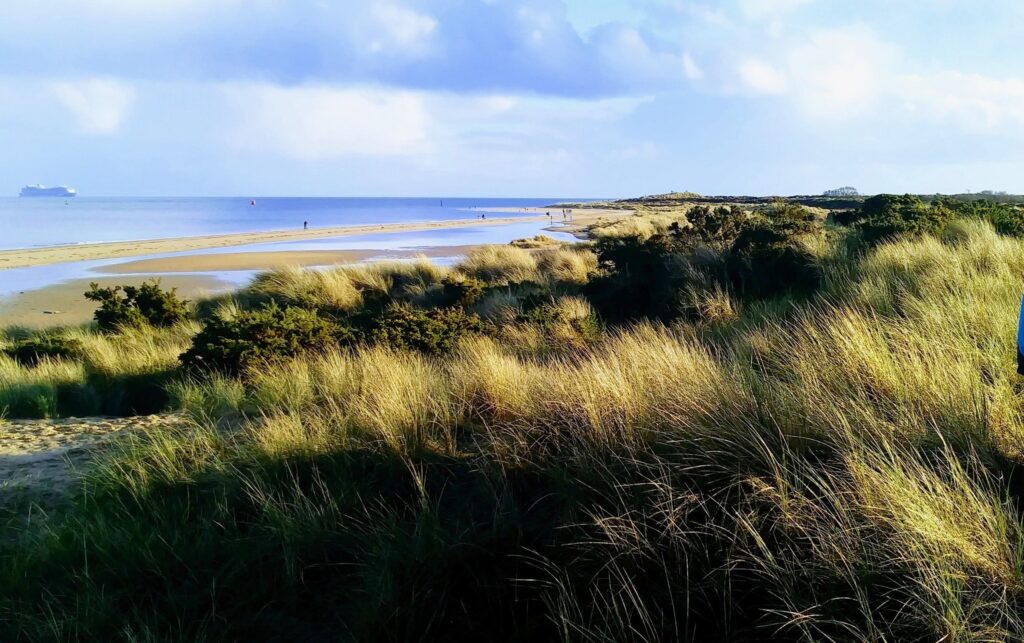 Studland dunes, start/finish will be on that beach – watch this space
Just to finish off with some event news. The night league continued at Winchester and the results can be found here. The night league tables are updated with in the open category: Alan B, Jason and Ian leading the way for the WSX men (all top 6), with Sheila, Julie and Tina leading the WSX Women, with the same folk leading the handicap league. The next few events in January are at Farley Mount on 13th, Wareham on 17th, Dur Hill on 22nd and Alderholt on 24th. 
Before that it is the traditional WIM Boxing Day Canter at Moors Valley. Enter now for fun, don't forget to look for Santa, the fairies and the decorated Christmas tree. 
Since my last post we had the Southern Championships at South Ashdown in East Sussex, where a small number of WSX members attended. Lyra continued her successful 2021 with a 10 minute win running up on W16. Worth mentioning that she added this title to her 3 British championship wins, wins at Northern, Midland and Welsh champs, as well as Home Internationals and JIRCs. Not a bad effort all round. Esk also did well in the W12 category at the Southern Champs, gaining Silver. We don't have many juniors, and a priority for the future has to be to increase our junior membership and Gavin and Jason are working hard to find ways to get young folk involved.
A few final thoughts for 2022 events. Next summer it is the Lakes 5 days in August, the British Middles are in Leighton Buzzard in early March, the British long is in Sussex in late March and the JK in South Wales at Easter. Don't forget to enter these early to get the best prices. If anyone wants to take part in the British Relays in a WSX team, let me know soon, as we will need to organise these teams.  
Agglestone awaits – our South West league event is on 20th February – please offer to help, and we look forward to seeing new members and night orienteers to experience heathland and duneland terrain at Agglestone and Studland