Purbeck weekend
It has been a busy few weeks of orienteering, including our successful Purbeck Orienteering weekend, with the first chance to try out the southern dunes at Studland and the new map of Swanage. We were blessed with the weather. Although the control placers all got wet, none of the orienteers did. Thanks to Liz and Ian for organising both days, to Kevin and Karen from WIM for controlling and Julie for mapping and planning. From what I heard everyone felt that they got their money's worth from my Studland courses. It was a real privilege to offer such a fantastic location for orienteering, thanks to the National Trust, and to hear "hardest area for orienteering in the South, along with Penhale" was great to hear. Over a beer, the odd person challenged this assumption, but I think we have a precious resource and a valued landowner. Swanage was also excellent, with Julie liking those hills !! 
Also want to thank the WSX team for their hard work, everyone available turned up and did their job on the weekend, including those that placed/collected controls or sorted the results and RG well after the event, and didn't even run. I also hear that Tove Alexandersson even tried out the string course. There was a father and daughter from Czechia who had come over for the weekend, just to experience coastal orienteering. Apparently they really enjoyed it.
The results and planner's comments can be found on our website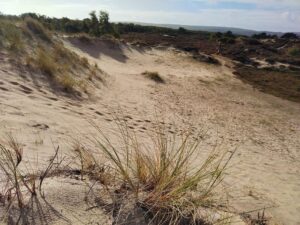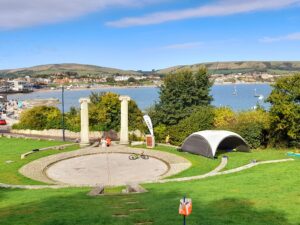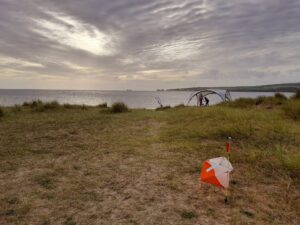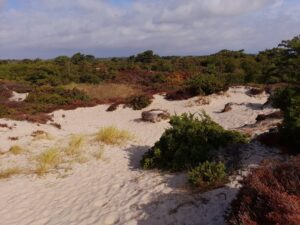 AGM
Since my last post, we had the AGM, and I welcome Bruno Smith as our new committee member and thanks Ian Sayer for his 35 years of service. Here follows my report on the night, in case you miss it elsewhere (skip if you have already heard it):
"I would like to welcome you all to the WSX AGM. Great to see you all here, and I hope you're all looking forward to our upcoming weekend of orienteering on Purbeck on our new dunes and urban maps. It's testament to some of the work of the committee over the last year that we are able to offer not only one but two new places for orienteering for our 34th Dorset Delight.
"It doesn't seem like 5 minutes since we were sat here around the time of the Caddihoe last year. So I would like to thank all the committee for their support over my second year as Chairman. I was a bit daunted by the prospect, but have to admit that it has been very rewarding. Spending my day job leading teams, I wasn't particularly keen for more responsibility, but I quickly realized that everything with WSX is fun, everyone is very positive, and everything can be achieved, within the financial constraints of Roger's book-keeping, and even then, he can be outnumbered.
Ian Sayer: particular thanks to Ian, who after 35 years of committee positions has decided to step down. Liz tells me he has done it all: Chairman, Secretary, Treasurer, fixtures sec, membership. He has also done planning, controlling, event organizing shadowing and mentoring novices (including Lyra, Esk and Rebecca), car sharing driver, multiday accommodation organizer, quiz master, Tuesday trainer and much more. Ian is the backbone of WSX orienteering club. At my first event in the Ashdown Forest in January 1990, running an orange with my brother, Ian is there in the results running M35L, so has been an active member for all that time. 
Events:  around the time of the last AGM, we had just organized the Caddihoe weekend with WIM. This replaced our usual autumn event for the Dorset Delight. We had more than 350 entries, with Julie organizing, Ian planning and Roger controlling on the other day. This weekend made a very tidy profit which pleased our chairman, and have enabled us to invest in some replacement kit, including a battery pack to replace the generator, and also to offset some of the costs of mapping Studland.
Night league at Hamworthy in October was organized by Julie and planned by Alan Blanchflower with about 40 entries. Night league at Canford Heath in December was organized by Julie and planned by Dale on more of Dale's every expanding map, with ~40 entries. Night league at Wareham was organized by Julie and planned by Jon Brooke, with ~30 entries. Finally night league at Poole was organized by Julie and planned by Jason, with ~50 entries. Thanks to all the night league planners, and particularly to Julie for setting these events up and arranging payment. Thanks to Tim for the work he does on Fabian4 entries and Racesignup.
Given the new Studland map, we decided to run a local event in February to test out the northern part of the map. Roger planned some courses, and again Julie organized. We had a fantastic start location on the beach at shell bay. We also welcomed the South-west junior squad to come and train on the dunes. They finished the day by swimming in the sea, in February! It seems that this could become a regular occurrence, and I am planning something for this winter for the squad. With 120 entries, and 30 in the SW extended squad, it was great to offer some technical orienteering in Dorset dunes. Three weeks later we had our annual SW OL event, this year at Agglestone, organized by Liz and Julie and planned by Jon Brooke, with only ~120 entries.
Find Your Way/Summer Series: Jason organized a number of events over the season, with support from other members of the club, such as the Crickmores and friends from WIM. These were at Sturminster Newton, Boscombe, Milldown (this weekend), Baiter Park, Blandford. These have been introducing new and existing orienteers to Maprun as part of a BOF initiative. There is a plan afoot next to also run a maprun league, as we did during Covid.
Mapping/upcoming events: We have new maps of Studland (all the dunes0 and Swanage, and these will be tested to the full at the Purbeck Orienteering festival. Studland is being organized by Liz and planned by me, and Swanage is being organized by Ian, and organized by Julie. So far we have 150 and 110 entries with 4 days to go.
South West relays: There were four SW relays this year, WSX (team of Ian and James) won the NOW relay again, coming 2nd in SARUM and WSX and third in WIM. These were poorly supported so may not carry on next year
Night league results: Top 5 places in the night league results in the Men's open were Alan in 2nd, Jolyon in 5th. In the Women's open, Lyra 2nd, Fern 3rd, Tina 4th. In the handicap age graded league, Ian 5th  in the men's and Lyra 3rd, Julie 4th, Tina 5th.
Awards: At our club championships, held at the November classic in November 2021, Ian managed to pip Gavin as winner of the Men's award, and Lyra managed to avoid running into a tree this year by reclaiming the award from her sister. Alan Hooper was awarded the Chairman's award for his massive contribution to organizing our mapping, upgrading our SI systems to contactless and generally his years of service to our technological aspects of the club. The most improved adult (Ian Horsey trophy) was awarded to Scott Elford, who has gone from no orienteering to successfully navigating his way around the South Wales mining fields at the JK to running and filming using go pro at the Lakes 5 days. Scott has been a great addition to the club, he has set up an Instagram account, and entertained us with the daily Lakes 5 days videos.
The most improved junior (Charlie Morton trophy) was awarded to Esk Medlock, for silver and bronze at the British championships in 2021 and he inclusion in the South West junior squad. Not easy following in Lyra's footsteps, but Esk makes her own tracks and quietly goes about her business to some great effect. As for other juniors, we say a sad farewell to Agnes, who has left us for Aberdeen University, and we also welcome back Arthur who managed to perform very well at the Coast and Islands, wearing a Hawaiian shirt, and still managed to beat Gavin a couple of days.
British champions: Another good year for some of our WSX. Gavin won the British sprint champs at Leeds University. Gavin, Lyra and Jolyon won ad-hoc at British relays in Sussex. Lyra won a bronze at the British Sprint relays at Leeds as part of a Dorset alliance team with WIM juniors. Esk was also able to join a team with WIM juniors. Jolyon won silver at the ad hoc British sprint relays with two WIM oldies. Lyra won gold at all three British champs (sprints in Leeds, long in Sussex and middles in Buckinghamshire). She also won the JK sprint and middle, and Andrew Beldowski won the JK sprint. Lyra and Gavin represented England at the JHIs and VHIs, both winning their races. Lyra was selected for Lagganlia camp in the Cairngorms, and Deeside camp in Findhorn. She also was selected to represent GB at the European Youth Orienteering Champs in Hungary, coming 9th in the sprint. WSX helped fund all these successes, and off set some of my overdraught.
Juniors: All our juniors (Agnes, Arthur, Lyra and Esk) have been part of the South West squad, and Lyra and Esk are off to Northern Ireland this weekend for the JIRCs.
Schools: Huge thanks once again to Jason for his enthusiastic and committed support to school's orienteering. He has created new VOC at Sturminster Newton, Blandford Stour Meadows, Sherborne and Blandford Milldown, as well as Live Mapruns at Christchurch, Boscombe, Poole town and Moors Valley. I started counting how many participants he had taught at his school training, but lost count after 2000  Great work Jason, as ever.
Looking ahead:  after the Purbeck weekend we move into the Night league season, with four WSX events planned, at Broadstone, Swanage, Corfe or Studland and Queens/Kings Park. With the November classic, we have an urban at Friar's cliff, organized by Rob and planned by Ian. We will then hope to run two joint events in the New Year with SOC, including the Compass Sport qualifier and a SW league event
Finally: I would like to thank all the committee for supporting the running of the club over the last 12 months .
Home Internationals & JIRCs
This last weekend, Lyra took part in the Junior Home Internationals representing England in the Scottish highlands. She was part of the winning girls relay team at Loch Vaa, then won her W16 race on Creag Dubh, which you may remember from the Scottish 6 days.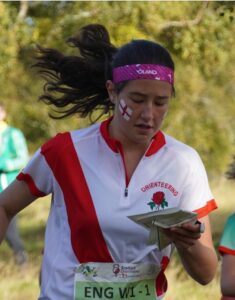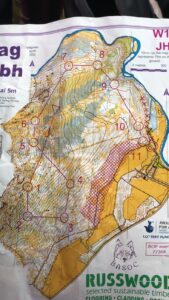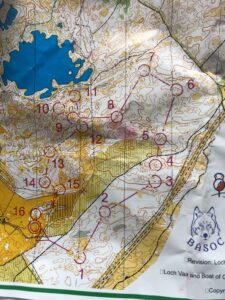 In September, Lyra and Esk represented the south-west at the JIRCs in Northern Ireland at Tyrella, where SW came 4th behind the mighty Scotland, Yorkshire and North-west. Both girls managed a third place in the JIRCs girls relay, running together with a BOK junior. It was apparently a very tiring but enjoyable weekend (photos from Will Heap).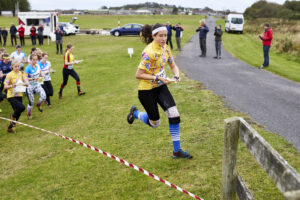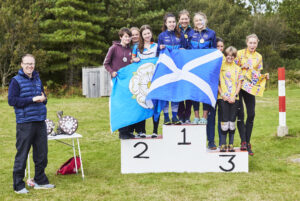 Southern Champions – Caddihoe Chase
Also in September was the Southern Championships on Dartmoor, organised by DEVON, with a day each on Haytor and Hound Tor. Congratulations to Gavin, Lyra and Esk who won their respective ages.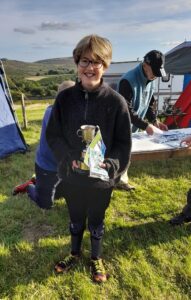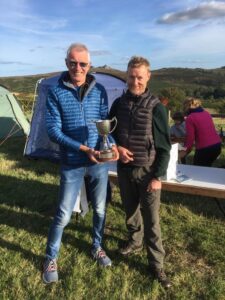 Night League
Don't forget to enter the night league, first events are at Broadstone and Verwood 
November Classic and Club Champs
November Classic on 6th November is our club champs, so don't forget to enter (your age group), and the day before is our urban event at Friar's Cliff, let Rob know if you can help. 
Finally
Lots of other orienteering to report on but no space this time. Some of us went to Pembrokeshire, some went to the New Forest, some went to London city race (and won):