Darby's Lane, Poole.
Closest postcode: BH17 8QG
(OS: SZ 025 935)
Located near the Pilot Pub on Canford Heath. Access to the car park is from Scarf Road, off Adastral Road. Footpaths to the park area are on the opposite side of Adastral road.
Loading map...

Attractive park within the Canford Heath estate.  Ideal for youngsters, beginners and schools. Mix of open land and trees. Good paths.
Darby's Lane Park contains the playing fields for two local schools There are normal open park spaces combined with wooded areas.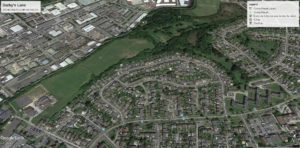 Courses of 1.7 and 2.7km are available.
Maps can also be downloaded and printed, as described below.
The park is open all the year, parking is chargable in the local shopping car park although street parking locally is widely available.
.
To print your own map pack, click on each of the links below: